Fs9 Aerosoft Luxembourg Airports Ellx Wu
AVSIM Commercial FSX/FS9 Scenery Review
Luxembourg Airports
It has detailed mesh and aerial imagery covering the terrain. All buildings on and around the airport of ELLX are photorealistic. Luxembourg is, with an area of 2586 km², the second smallest country in European Union. But it houses a large amount of international institutions that create a steady stream of civil servants to and from the Duchy.
Addon used: SamScene3D Luxembourg RealCity3D Aerosoft Luxembourg Airport video captured with Fraps color correction with premiere cc2015 Landing at Luxembourg airport (ELLX) with cessna Advanced Search.
You may want to check out more software, such as Aerosoft's - Aerosoft Launcher, Aerosoft MCP747 or aerosoft's - German Airports 3 - Paderborn-Lippstadt, which might be similar to Aerosoft's - MyTraffic 2010.
Please say it will be for FS9 as well. Happy New Year! Jump to content. Aerosoft Scenery; Existing user? Have just purchased ELLX for FS2004. The taxiways joining the runways and aprons are being treated as dirt with the associated bouncing. Aerosoft Luxembourg Airports FS2004 Language. English (USA) (Default) Deutsch (german. Aerosoft's - Luxembourg Airports is a software program developed by Aerosoft. The most common release is 3.00, with over 98% of all installations currently using this version. A scheduled task is added to Windows Task Scheduler in order to launch the program at various scheduled times (the schedule varies depending on the version).
Product Information

Publishers:Aerosoft

Description: Scenery package including the whole of Luxembourg, with airports and landmarks.

Download Size:
491 MB


Format:
Boxed or Download
Simulation Type:
FSX & FS9
Reviewed by: Benjamin van Soldt AVSIM Staff Reviewer - February 13, 2010
Introduction
Those that live in Europe have a reason to be happy. There are many airports in this continent that have been replicated. So okay, it's mostly Western Europe, and in particular Germany. How come? Because Aerosoft is a German company.
Indeed, Aerosoft has most of the well-known European airport packages. They don't focus on just Airports, though. In recent times, we have also seen packages like Tahiti X, Male X, and Ibiza X, all packages that set out to replicate entire countries and islands in our FSX world. Guess what: there is a new kid on the block!
This time Aerosoft stays in Europe with Luxembourg Airports: a remake of Luxembourg for FSX. It's the biggest region Aerosoft has set out to replicate (biggest landmass, anyway), and it includes all (three) airports, a lot of landmarks, mesh, and around the airports some nice photoreal ground textures.
Personally, I think this is a good choice for a product. Why? Quite simple: it's a rather central country, and it has one of the biggest cargo hubs in the region. Cargolux, probably known to many, is a big cargo hauler with its hub at ELLX, being Luxembourg's one international airport: Findel International Airport.
In this review I will be giving it a look, to see what it is all about. I will be flying around low and slow, and I will see what FPS are like when we get into the big PMDG 747.
Installation and Documentation
The cover of the Luxembourg Airport manual.
Installation is simple and straightforward. Those that have already purchased Aerosoft products will know how it works. You start out downloading the files (or insert the CD of you bought the boxed version), and when done, you start the installer. It asks for your email address and serial key, and when entered, you tell the installer where you want it installed (the program wants you to select your FSX root folder). That's it. You then click install, and the rest is fully automatic. It creates all the necessary folders and adds the scenery to FSX's scenery library.
In your start menu a nice, new folder has appeared titled "aerosoft" (yes, that's without the capital A, no idea why…). In it, you'll find a program to configure ELLX so as to add AES Lite (little cars and such that drive around the airport), mipmaps (if you have problems with flickering textures) and static aircraft (no idea why you'd want that with the great freeware World of AI add-on packages…).
You can also configure the season of the photoreal textures that provide an underground for the airport. Do you have to? No, not really. You must do that if you fancy flying in seasons other than summer because seasons don't change together with the "normal" ground textures our FS world is filled with. This is indeed a weakness of using photoreal textures, but one many of us have come to except.
The documentation is nicely laid out in the typical Aerosoft way, with a nice cover, grayish titles for paragraphs, and rather large text that is easy on the eye. What's in the manual has been written well, although there is an occasional hint that the author was not a native English speaker (but neither am I, so who am I to complain?).
Basically all that is needed is there, and there isn't much else to see. I did go rather happily to the chapter titled "Airport charts", only to find to my dismay that they were not supplied with the product, like they were with Aerosoft's Charles de Gaulle scenery, for example. All in all, a nice manual but I don't expect you'll really need it.
As an aside, there is also a small PDF file containing a chart detailing where all the landmarks are. This is great, because it enables you to plan a flight to a specific town to look at the castle or whatever. Then return to ELUS or ELNT (the two tiny VFR airfields included). If anything, you can use this to give yourself an idea of the country, which is something that I value.
A big project
Doing an entire country requires work, and a lot of it. Also, reviewing an entire country requires work and good structure. Flying from one end to the other really makes no sense. So, I decided to start with the airports. First ELLX, then the other smaller two.
First I'll be flying around Luxembourg, the one big city of Luxembourg (yes, the city and country have the same name). Afterwards I shall do the remaining bits and pieces. Before I even start showing you anything, I think the fact that the entire country of Luxembourg is included is already worth a compliment!
ELLX/Findel Airport
We start at Luxembourg's main hub: Findel international Airport, which I'll call by its IATA code hereafter: ELLX (Same goes for the other two, smaller airports). This is not a big airport, and it's probably one of the smaller international airports in the world. What it does have, is a huge cargo center:
| | |
| --- | --- |
| The entirety of the cargo center apron. | Trucks at the cargo center. |
| One side of the cargo center, with some more trucks. | Cars and trucks at the cargo center. |
That's not all, though. There is even more places for cargo planes:
| | |
| --- | --- |
| General overview of the "second cargo center". | Here, too, there are trucks. |
This is interesting, because the total places for cargo planes is probably equal to the number of passenger planes that can be parked here. Of course, you have to take into account the fact that the passenger terminals seem to be filled with mostly small planes (Luxair itself doesn't seem to have big planes, nothing bigger than Boeing 737s or ERJ-145s), while the cargo spots are mostly filled with Cargolux's huge Boeing 747s. So, while in fact there are fewer parking spots at the cargo centers, the planes that do park there are a lot bigger.
The modeling of the cargo centers is good. The textures are very sharp, even from close up, and there is quite a lot of detail. Even if the buildings themselves are not extremely detailed, there is a slew of tiny objects in the form of trucks, cars, baggage loaders, you name it. There is a lot to see, and it is all nicely modeled and textured.
Next up is the passenger terminal. While it's not big (it's actually rather small), it is a beautiful structure nonetheless. With an all-glass front, the shiny blue building greets you from a distance, and the marvelous detail of the jetways is extraordinary. The jetways themselves are largely constructed of glass too, with the glass plates interconnected with metal tubing: a construction you'll often see at the newest of airports. I think it has been replicated faithfully and beautifully.
| | | |
| --- | --- | --- |
| Jetways at the passenger terminal. | Again, other angle. | Passenger terminal, from one of its sides. |
The passenger terminal extends in one direction for a little bit. It's like an arm with fingers, the fingers being gates. These gates don't have jetways; instead you descend to the apron with stairs, which have also been faithfully replicated. Even the little metal constructions that hold the glass in place have been replicated with tiny but sharp textures.
| | | |
| --- | --- | --- |
| The "arm" with "gate fingers". | Entrance to the passenger terminal. | Mesh weirdness at the entrance. Luckily, there is a solution. |
The entrance to the passenger terminal generally looks good. The building itself has sharp texturing and very nice modeling. However, there are some serious problems with the texturing and the mesh. Both of the problems are easily solved, and I will soon explain what these solutions are.
The rest of the airport consists of hangars, office blocks, hotels and other buildings. I will not spend much time explaining what you see. Instead, I'll present the screenshots with captions and leave it at that.
Sometimes, it looks as if the taxi and runways "sink" into the ground. Then you get this: a blurry photo underground, without the actual taxiway texture over it. This, too, is easily solved! More later.
| | | |
| --- | --- | --- |
| 3D Approach lights at runway 6, part 1. | 3D Approach lights at runway 6, part 2. The remainder of these lights is placed on poles, because ELLX lies on quite hilly terrain. | Look closely! These are 3D! |
| 3D Approach light at runway 24, extending over a bridge over the highway. | Adjacent to the cargo center, we have an open space filled with sand. A construction site, I presume. | Flying on, we come across some hotels. Nicely detailed and nicely textured. |
| Cargolux offices and surrounding buildings, including two trucks. | Not far from the offices, we find a parking lot with several cars on it. | Then we fly over the control tower. It is quite tiny, but seeing as how small the airport is, that's not surprising. The building itself is nicely modeled and textured, and so are the surrounding buildings. |
| Again the control tower, but from a different angle. | An apron close by the control tower. Nicely detailed buildings. | A bit further along the apron, there is an old DC3 (or is it a DC2). It looks very nice, and the texturing of it, and the surrounding buildings, looks well done. I appreciate the objects scattered around the plane. |
| On the other side of the runway, there is a big hangar carrying the logo of Cargolux. Isn't it funny, how the entire airport seems to be geared toward Cargolux, and not so much Luxair? Granted, the passenger terminal area is filled with cars and mobile stairs carrying the Luxair logo, but still… | Behind the Cargoluc hangar, there is a small, white structure. Not so detailed, but also hardly in our sight, so I suppose it's not very important. | To the left of the hangar, w find this small tower with a white orb. I presume it a radar tower of some sort, because it reminds me of the radar dome on top of Schiphol EHAM's control tower. |
| Now for some closing shots. The texture detail of the apron (and all taxiways for that matter) is extremely good. Sharp and precise, it looks very authentic! | Here's a shot of how Ultimate Terrain: Europe and Luxembourg Airports' photoreal ground textures fit together precisely. The added bonus of this, is that the infamous "lights" layer we get with UTE fits exactly over the ground textures, providing some very nice (and accidental) lighting during he night. | A powerstation, near ELLX. I love this attention to detail! |
While viewing the above screenshots, you must have noticed the frequent blurriness of the photoreal ground textures. I'll be honest: my computer sucks for displaying great FSX detail and getting good FPS at the same time, so to be able to fly somewhat normally, my texture settings are around medium. That's mostly why these ground textures look so bad (although from a height it is greatly improved). I just wanted you to know that it's not in the scenery, it's because of my hardware!
This is what the photoreal ground textures ought to look like. Not bad at all! But, sadly, not something I can get on my machine…
This concludes ELLX - for now. We'll come back to it at the chapter about the night lighting.
The other two airports
This package isn't called "Luxembourg Airports" just for the heck of it. It contains two more, very small airports. They might not be good enough to land a Boeing 737 at (these are grass strip, VFR airfields), but they have a lot of atmosphere. They also have a lot of problems, some of which I know for sure are going to be patched in the next update. Without further ado, I present you ELNT (Noutrange) and ELUS (Useldange):
| | | |
| --- | --- | --- |
| ELNT: It is a tiny, but it is very charming. It is nothing more than a grass strip, but look how airport buildings are built along the road. Even the aircraft are simply parked along the road. I think it looks great. | ELNT: A strange runway problem. | ELNT: After taking off, this is what you see. Very nice view indeed. |
This concludes ELNT. ELUS has big mesh problems, but the development team is aware of these and are set to release a patch very soon. At the time of writing it was not released but you'll be able to download it from the Aerosoft website. In its current state, this is what ELUS gives you:
Huge mesh problem at ELUS.
Where there is light, there is a fire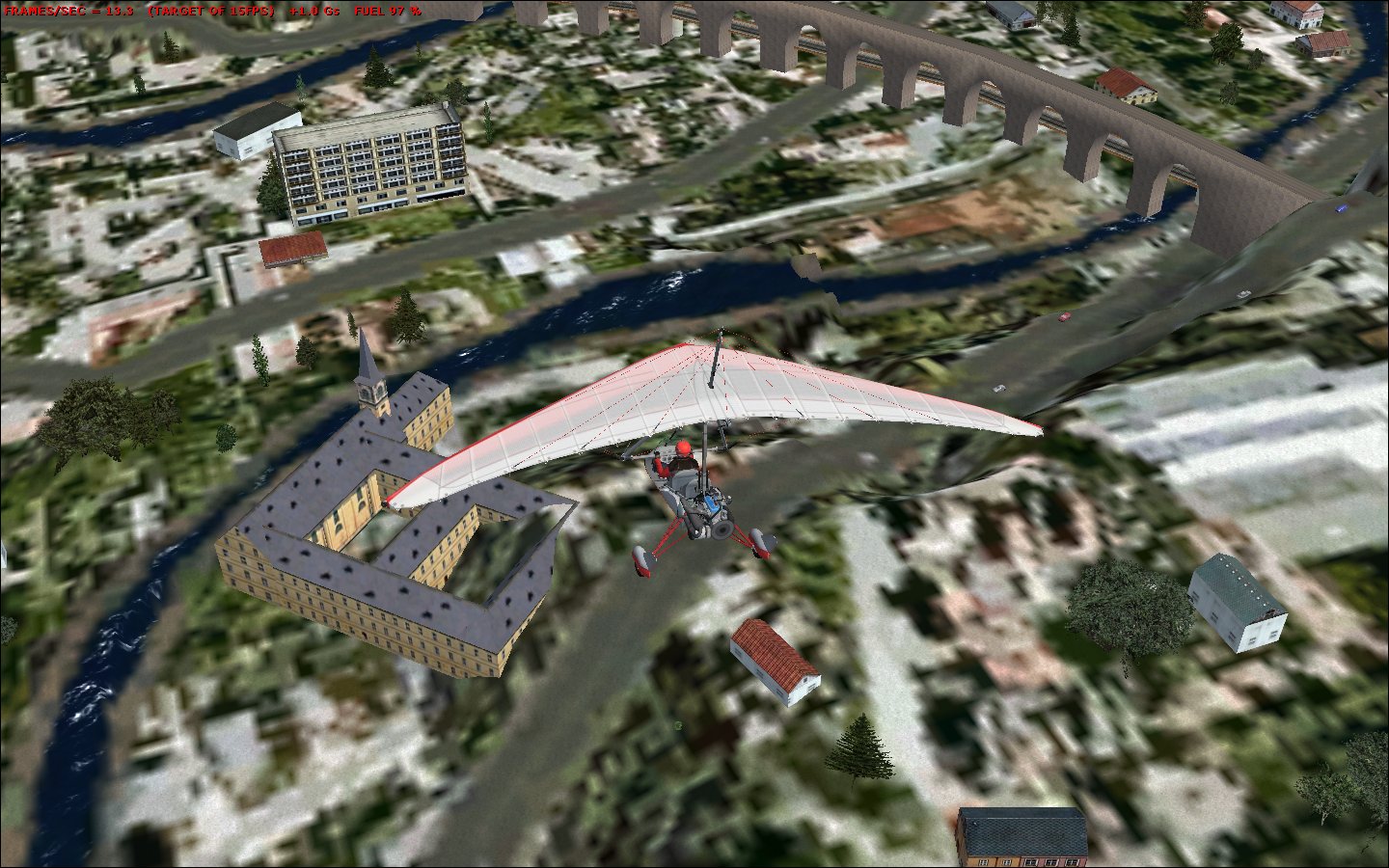 In this case not a fire, but a city. Luxembourg City, that is. Luxembourg City is the capitol of Luxembourg, and is the only really big city in Luxembourg (there are three other big towns).
Surrounded by the hilly terrain that extends into Belgium, France and Germany, Luxembourg sits right in the middle of a valley, with another valley going right through this city. This last valley is a river valley, through which flows the rivers Alzette and Pétrusse. In reality, this must be a beautiful location. I have been there, or so I am told by my parents; I was too young to remember.
In Luxembourg Airports, not only are the airports modeled, but also some landmarks and landclass and mesh add-ons have been included. So, flying over Luxembourg City we come across some nice spots. Here are some of them to give you an impression:
| | | |
| --- | --- | --- |
| Nice bridge. To be honest, I'm not sure this is UTE's work or Luxembourg Airports, but I have every reason to believe it is Luxembourg Airports. | Seems like something went awry here. To be honest, I'm not at all sure if this is Luxembourg airports at fault, or UTE… | Added car tunnel entrances (UTE's are flat, 2D bitmaps). Sad thing is that the car tunnels should have either been made a bit longer, or moved more "into" the hill. Now you can clearly see how the tunnel entrance "ends" right before it actually fully goes into the hill. A sloppy and unnecessary mistake. |
| The rivers Alzette and Pétrusse, together with some fancy bridges, a beautiful cathedral, and what I presume is the famous castle of Luxembourg, contrasted by the Francs. | Close to ELLX, we find this grain silo like structure. Probably a normal factory, but it looks pretty good. You'll occasionally notice smoke coming out of the chimney. | A big power plant, although, from what I read in the manual, this power plant is in France, in the Lorraine region. Can you imagine? Here I was, flying happily around Luxembourg, and then I'm suddenly flying over France… Gives you an idea of the size of Luxembourg, doesn't it? |
| A train driving over the rails. Sadly, it doesn't move. | Here is that train again, but now you can see how the consist doesn't sit correctly behind the locomotive. Further more, due to slight errors with the river and the mesh, the bridges are not at the right height for the train to even drive successfully from the bridge into the land… I'm being nitpicky now, but in my opinion, These are the details that once you notice them, sort of spoil the experience of flying over the scenery. | The Luxembourg City train station, which is a genuinely beautiful building. It has been rather nicely replicated for FSX, but, seeing as how we saw a static train "drive over" bridges earlier, I ask myself why a train wasn't put here also… |
I hope this gives you a bit of an impression of the landmarks, mesh and landclass used here, as to give you a nice VFR flying experience over Luxembourg. To be perfectly honest, while I appreciate the frequent detail (the train, for example), I feel that many tiny forgotten details (such as the consist and locomotive being at separate heights), spoil the otherwise nice experience somewhat to the extent that I'm not sure if I really would want to regularly use it in its present state. These are some harsh words, but I truly hope these things I've pointed out will get fixed.
The solutions to all the problems
After spending some time with the Luxembourg Airports development team, it was clear two things had to be done to solve the mesh problems at ELLX and Luxembourg City, and to solve the taxi/runway problems at ELLX:
1) Set your mesh resolution to at least 2m;
2) Fiddle around with Ultimate Terrain Europe X (UTEX).
Concerning UTEX, you have to turn off the scenery library entry titled UTE Airports. Turn this off and the taxiways and runways return to normal. The Mesh problems will get cleared up when setting the resolution to 2m, but at the same time, I discovered that setting it so high also caused other problems. Below are screenshots that demonstrate these findings.
| | | |
| --- | --- | --- |
| With higher mesh resolution, the terminal problem was cleared. | And again, from another angle. | At Luxembourg City, there still is a problem with the castle. |
| While the locomotive and consist now fit together, the bridge is far too low. On the other hand, the river flows under the bridge, so that problem is no cleared too. | At the other side of the train, there is a big problem with the bridge there. | After disabling UTE Airports, taxiways and runways return to normal. |
At night
In this chapter, I'm only going to show you shots of ELLX. This is the only area in this package that has something big to show for itself at night. While the separate landmarks also looks rather nifty, they are not nearly as good looking as the whole of ELLX, with all of its lighting. So here we go:
| | | |
| --- | --- | --- |
| I love the look of the lights forming one big "orb" at the end o the runway, in the way you can see on this shot. | Overview shot of the runway lights with their respective approach lights. | The cargo center has very nice night textures. The ramp lights have been done with a silverfish, grayish tint that fits the bluish buildings extraordinarily well. |
| The trucks have also nice lighting, although I think it's a pity the lampposts (the things with a red light on top) don't seem to give any light. | A small glitch here: some purple on the road that will have to be removed. It spoils the atmosphere a bit… | The entrance itself has nice textures at night, but that parking really has tobe fixed. |
| Also this side of the terminal has nice night textures. | The terminal building looks very good, and the lighting of the apron is very nice too. I always liked these "cold" grayish lights. In the distance you can see the "arm", with some of its night lighting: not bad at all. | You can see that the smaller terminal buildings that really seem to have any specific night lighting. I wonder if this is realistic. Seems a bit weird to me. Still, it looks okay this way. |
| As you can see clearer now, despite the fact that there are lamp posts everywhere, they don't emit any light. It's a pity, I find. | Cargolux office at night. | The second cargo area doesn't have much special night lighting, but nevertheless there are some lamp posts with that nice "shining" effect. Looks good. You can also see the control tower, which also has hardly any special night lighting. I guess that's just the way it is, though. |
| That apron we saw with the private jet on it is now completely empty. With several spotlights only, it's a very lonely affair. | I like the lighting on that blue building. I think it looks pretty authentic. It's been done well. | A small-size hangar with a Luxair Boeing 737-500 in front of it. Nice lighting! |

The night textures are very good, and I enjoyed looking at them. There isn't much more to be said about it.
Something that I did notice which I found surprising, is what you see on the screenshot where I fly toward the jetways of the passenger terminal; it's the screenshot where you see the main terminal building, together with that small, unlighted terminal building (the "arm" is not in view!).
If you look "behind" the terminal building, you'll notice the car park and entrance, together with that small brownish wall. Seen from this angle, it doesn't look like that brownish wall floats in the air at all; it looks like it is firmly on the ground. I'm still of the opinion this should be fixed, though (it should be right from ALL angles, not just this particular one…).
Performance
Flying around in the Trike Ultralight, it was soon apparent my computer was not really agreeing with what it had to display. As soon as the loading screen vanishes, I get to see an untextured mess and it requires the computer a minute or so to fill it all up. Granted, this is my computer being lazy and I'm sure people with better computers will have better results. Still, when I was flying, the FPS were not as bad as I thought they were. Here's a small table:
| | |
| --- | --- |
| Aircraft flown in what situation | FPS |
| Ultralight at daytime at ELLX | Around 8-11 |
| Ultralight at nighttime at ELLX | Around 7-9 |
| PMDG 747 at daytime at ELLX | Around 7 |
| PMDG747 at nighttime at ELLX | Around 4-5 |
| Maddog 2008 at daytime at ELLX | Around 9-10 (this one amazed me) |
As you can see, it's all around the 8. The fact that the Maddog was around 10 at ELLX surprised me because it usually is a frame hog in FSX. As for the rest, flying over Luxembourg with the Ultralight, the FPS usually improved when ELLX was not in sight and it would rise and stay around 13. I'm not too happy with these figures, but oh well.
FS9?
First things first: there is a FS9 version. However, buyers beware! It is not exactly what is stated on the project page! The FS9 version was first only to include ELLX, but the landmarks made their way into it too. This is, of course, very good but I've seen some people within the first days of release who were looking for ELUS and ELNT, yet couldn't find it. Let us be clear that these two airports are not part of the FS9 version of the scenery package!
That said, in FS9, ELLX looks stunning. It truly is a very good-looking scenery! To be honest, I didn't actually see much difference between the FSX and FS9 versions of ELLX. The only difference which was blatantly obvious, was the fact that all transparent windows in the FSX version are not transparent in the FS9 version, as you can see here:
| | |
| --- | --- |
| No transparency in the jetways. | No transparency in the stairs. |
About this I really don't care too much. I'm just glad this scenery made it in such a good way to FS9! For the rest, it's mainly ground textures which seem to be more blurry than in FSX, but this was to be expected.
Regarding performance, I found that the performance was slightly worse than I had anticipated (because honestly, the airport isn't that big, now is it?) Flying around in the Carenado Cessna, I had between 16 and 18 FPS when flying directly over the airport. On approach, it sometimes went to 11.
I should add, as a reminder, that the hardware of my computer is 1.5 year old. Most people probably won't have a problem with this scenery.
Summary / Closing Remarks
Test System
Macbook Pro with:
Windows XP SP3
250GB Hard Disk
Nvidia 8600GT 256MB
4GB RAM
Intel Dual Core @ 2,4gHz
Flying Time:
10 hours
This is the chapter where I say what I generally think of the scenery. Problem is, I'm not sure what to think. On the one hand, we have a splendidly detailed ELLX, with landmarks spread out all over Luxembourg. On the other hand, we have a scenery that doesn't seem very frame rate friendly and isn't really compatible with UTEX (or its FS9 counterpart for that matter).
I can forgive the performance issues because my computer really isn't up to running FSX very well, although I'd like to point at Aerosoft's Lisbon and Tegel reviews I did, and say that these airports give me significantly better frame rates!
The UTEX compatibility problems are more important, though. While I can forgive any compatibility problems ELLX might have (luckily, there are none. The photoreal ground textures fit perfectly onto the UTEX roads, as I showed in one screenshot), I can't really forgive it for the VFR portion of the product.
Think carefully about what Luxembourg Airports is. It is a (sort of) "mega airport release" (namely, ELLX), combined with an extra add-on that includes Luxembourg landmarks for people who like to fly VFR. So, essentially, this product gives both heavy metal guys and VFR guys a nice environment to fly in… But is this true? Because in my opinion, those that want to fly VFR seriously, simply need to have UTEX. It adds so much to the FSX (and FS9) environment and it enhances both day and night environments in such a great way, that when you have it, you don't want to stop using it.
And that's where the problem is. I feel that, as it is now, you have to choose whether you want UTEX or Luxembourg Airports. Both, in their full and complete form, is not really possible. You'll get double bridges, for instance. I feel that to get this product up to the level where it belongs, these things have to be cleared up. Moreover, I don't think it'll be all that difficult, either.
Fs9 Aerosoft Luxembourg Airports Ellx Wun
But again, I'm not a scenery developer, so I might be very wrong. Still, I'd think this is a matter of simply adding a utility that places exclude files in Luxembourg's scenery folder to make sure UTEX's bridges don't appear.
I have been thinking about the question of who is at fault: UTEX or LA (Luxembourg Airports)? In the end, I feel it is LA that should be doing something about it. LA was released long after UTEX, and the development team could have known about this product. Since this is a VFR type product, they should have known about the possibility of double bridges and they could have included the excluded files.
Fs9 Aerosoft Luxembourg Airports Ellx Wurst
At installation, the installer could then have asked whether you have UTEX installed or not. I have seen Aerosoft products ask me this before, so it is not impossible. Honestly, if you ask me to choose between UTEX, which gives me roads and bridges, etc, over the entirety of Europe, or LA, which gives me Luxembourg, I'll choose for UTEX. I'd end up disabling the VFR portion of LA that isn't compatible with UTEX, but I would leave ELLX on.
Fs9 Aerosoft Luxembourg Airports Ellx Wuthering Heights
Because whatever you say about the VFR part of LA, ELLX still is an example of masterly design. It looks phenomenal, and with the addition of AES (Yes! We have AES compatibility!), you have a beautiful and functional airport in a very central place in Western Europe. Certainly for cargo guys, ELLX is a must.
Fs9 Aerosoft Luxembourg Airports Ellx Wuxi
So, if you want to do this for ELLX alone, I say get it. If you want the VFR part and have UTEX installed, I think you might want to wait for some sort of update. If you don't have UTEX installed, it really doesn't matter and I say: get it.