Billing Software Source Code In Vb6 Array Ubound
Of course, in this particular case, since VB 6 allows you to use variables with a lower bound that is not 0, it's probably best to code the loop like this: Dim i As Integer For i = LBound(arffArray) To UBound(arffArray) ' Do something with the array Next i. VB Code - Menghapus Seluruh Komentar Visual Basic 6.0 Di bawah ini merupakan fungsi VB6 untuk menghapus seluruh komentar yang terdapat dalam source code Visual Basic 6.0. Kami membuatnya menjadi dua fungsi, fungsi pertama untuk menghapus seluruh komentar sedangkan fungsi yang kedua untuk menghapus seluruh line kosong. This Water billing system is an automated system that aims to minimize the process in paying the water bills. It is also designed to accommodate the complex water requirements and day to day work. It's an easy to use system and the functions can be easily learned. Create Job Estimator with embedded Database and Array in Visual Basic.Net, other functions of this project include a currency converter, real time, date and a calculator. I am Sarfaraz. Friends I am working on a billing project in VB6 and access. I have to save the information of a client like Id, Account No, name etc and most important Items(from a combo box) and then based on that combo box item select type of item from another combo box and finally length and width of that item and save them in a database.
I'm having difficulties to find a way to add 1d array to a 2d array in VB. For example: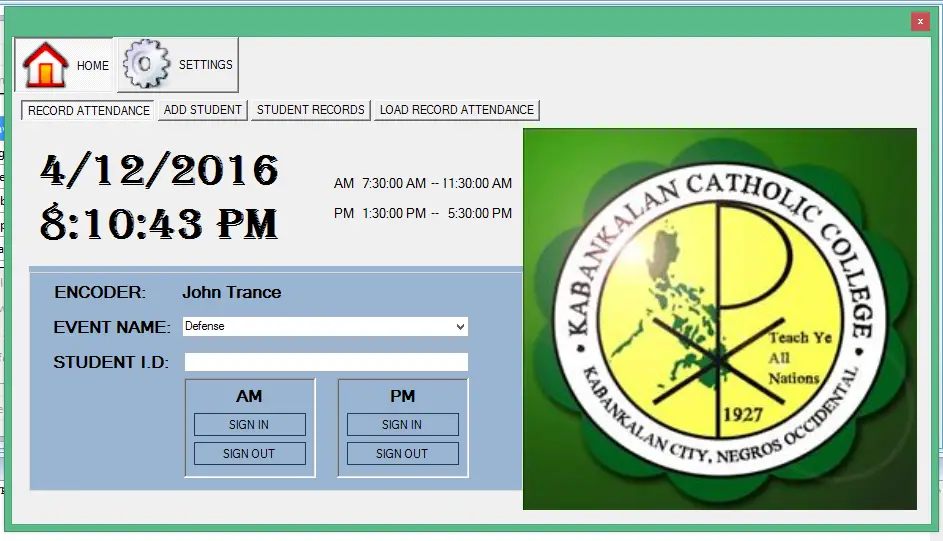 Note that the code above is just a demonstration on what I want to achieve, it doesn't work.
I have been trying things suggested on forum such as:
ReDim Preserve
Array.Resize
Making 2d loop to copy everysingle element to a new variable and add new element then ReDim it back to arr
All I tried, but they all doesn't seem to work. At the end of the day, I'm looking for a subroutine that could append an 2d array of unknown length for example:
1 Answer
You need to Redim Preserve the array, but you cannot do that because it adds another column when you want another row. So you will have to define a new array and copy the data:
Barcode Source Code In Vb6
You can avoid this problem by forcing yourself into having an array with two rows and variable number of columns, but then you won't be able to initialize it that easily and it will probably be more difficult to work with in general:
However you should not use arrays for this to begin with. You should use lists:
GSerg
Source Code In Vb6
GSerg
63k
15 gold badges
115 silver badges
250 bronze badges
Got a question that you can't ask on public Stack Overflow? Learn more about sharing private information with Stack Overflow for Teams.
Not the answer you're looking for? Browse other questions tagged arraysvb.netmultidimensional-arrayappend or ask your own question.
Permalink
Join GitHub today
GitHub is home to over 40 million developers working together to host and review code, manage projects, and build software together.
Sign up
Find file Copy path
Cannot retrieve contributors at this time
VERSION
1.0
CLASS
BEGIN
MultiUse
=
-
1
'True
END
Attribute
VB_Name
=
'ArrayList'
Attribute
VB_GlobalNameSpace
=
False
Attribute
VB_Creatable
=
False
Attribute
VB_PredeclaredId
=
False
Attribute
VB_Exposed
=
False
Option
Base
0
'Index all arrays from 0
Private
Const
DEFAULT_CAPACITY
As
Long
=
10
' The default intial capacity of the ArrayList
Private
Const
MAX_ARRAY_SIZE
As
Long
=
2147483639
' maximum size of array to allocate
Private
elementData()
As
Variant
' The actual array of Variants in the ArrayList
Private
size
As
Long
' size of the ArrayList
Private
modCount
As
Long
' The number of times this list has been structurally modified
Private
Sub
Class_Initialize()
size
=
0
ReDim
elementData(
0
To
DEFAULT_CAPACITY)
End
Sub
'Trims the capacity of this ArrayList instance to list's current size. An application can use this operation to minimize the storage of an ArrayList instance
Public
Sub
trimToSize()
modCount
=
modCount
+
1
If
size
<
UBound(elementData)
Then
ReDim
Preserve
elementData(
0
To
size)
End
If
End
Sub
Public
Sub
ensureCapacity(minCapacity
As
Long
)
modCount
=
modCount
+
1
'Overflow-conscious code
If
minCapacity
-
UBound(elementData)
>
0
Then
grow
(minCapacity)
End
If
End
Sub
Private
Sub
grow(minCapacity
As
Long
)
'Overflow-conscious code
Dim
oldCapacity
As
Long
oldCapacity
=
UBound(elementData)
Dim
newCapacity
As
Long
newCapacity
=
oldCapacity
+
(oldCapacity
/
2
)
If
newCapacity
-
minCapacity
<
0
Then
newCapacity
=
minCapacity
End
If
If
newCapacity
-
MAX_ARRAY_SIZE
>
0
Then
newCapacity
=
hugeCapacity(minCapacity)
End
If
'minCapacity is usually close to size, so this is a win
ReDim
Preserve
elementData(
0
To
newCapacity)
End
Sub
Private
Function
hugeCapacity(minCapacity
As
Long
)
As
Long
If
minCapacity
<
0
Then
err.Raise
6
' overflow
End
If
hugeCapacity
=
IIf(minCapacity
>
MAX_ARRAY_SIZE,
_
2147483647
,
MAX_ARRAY_SIZE)
End
Function
Private
Sub
ensureCapacityInternal(minCapacity
As
Long
)
ensureExplicitCapacity
(minCapacity)
End
Sub
Private
Sub
ensureExplicitCapacity(minCapacity
As
Long
)
modCount
=
modCount
+
1
'overflow-conscious code
If
minCapacity
-
UBound(elementData)
>
0
Then
grow
(minCapacity)
End
If
End
Sub
Private
Property
Let
setSize(value
As
Long
)
size
=
value
End
Property
' Returns the number of elements in this list
Public
Property
Get
getSize()
As
Long
getSize
=
size
End
Property
'Returns true if this list contains no elements
Public
Function
isEmpty()
As
Boolean
isEmpty
=
(size
=
0
)
End
Function
' Returns true if this list contains the specified element
Public
Function
contains(o
As
Variant
)
As
Boolean
contains
=
(indexOf(o)
>=
0
)
End
Function
'Returns the index of the first occurrence of the specified element in this list, or -1 if this list does not contain the element
Public
Function
indexOf(o
As
Variant
)
As
Long
Dim
i
As
Long
If
o
=
Empty
Then
For
i
=
0
To
size
Step
1
If
elementData(i)
Is
Nothing
Then
indexOf
=
i
Exit
Function
End
If
Next
i
Else
For
i
=
0
To
size
Step
1
If
o
=
elementData(i)
Then
indexOf
=
i
Exit
Function
End
If
Next
i
End
If
indexOf
=
-
1
End
Function
'Returns the index of the last occurrence of the specified element in this list, or -1 if this list does not contain the element
Public
Function
lastIndexOf(o
As
Variant
)
As
Long
Dim
i
As
Long
If
(o
Is
Nothing
)
Then
For
i
=
size
-
1
To
0
Step
1
If
elementData(i)
Is
Nothing
Then
lastIndexOf
=
i
Exit
Function
End
If
Next
i
Else
For
i
=
size
-
1
To
0
Step
1
If
o
Is
elementData(i)
Then
lastIndexOf
=
i
Exit
Function
End
If
Next
i
End
If
End
Function
Public
Function
ToArray()
As
Variant
()
Dim
arrCopy()
As
Variant
ReDim
arrCopy(
0
To
size)
Dim
i
As
Long
For
i
=
0
To
size
Step
1
arrCopy(i)
=
elementData(i)
Next
i
ToArray
=
arrCopy
End
Function
Public
Function
getIndex(index
As
Long
)
As
Variant
rangeCheck
(index)
getIndex
=
elementData(index)
End
Function
Public
Function
setIndex(index
As
Long
,
element
As
Variant
)
As
Variant
rangeCheck
(index)
Dim
oldValue
As
Variant
oldValue
=
elementData(index)
elementData(index)
=
element
setIndex
=
oldValue
End
Function
Public
Function
add(e
As
Variant
)
As
Boolean
ensureCapacityInternal
(size
+
1
)
elementData(size)
=
e
size
=
size
+
1
add
=
True
End
Function
Public
Sub
addIndex(index
As
Long
,
element
As
Variant
)
rangeCheckForAdd
(index)
ensureCapacity
(size
+
1
)
'shift current elements to the right one
arrayCopy
elementData,
index,
elementData,
index
+
1
,
size
-
index
elementData(index)
=
element
size
=
size
+
1
End
Sub
Public
Function
removeIndex(index
As
Long
)
As
Variant
rangeCheck
(index)
modCount
=
modCount
+
1
Dim
oldValue
As
Variant
oldValue
=
elementData(index)
Dim
numMoved
As
Long
numMoved
=
size
-
index
-
1
If
numMoved
>
0
Then
'move the remaining elements left one
arrayCopy
elementData,
index
+
1
,
elementData,
index,
numMoved
End
If
size
=
size
-
1
elementData(size)
=
Empty
removeIndex
=
oldValue
End
Function
Private
Sub
rangeCheck(index
As
Long
)
If
index
>=
size
Then
err.Raise
9
,
,
outOfBoundsMsg(index)
End
If
End
Sub
Private
Sub
rangeCheckForAdd(index
As
Long
)
If
index
>=
size
Or
index
<
0
Then
err.Raise
9
,
,
outOfBoundsMsg(index)
End
If
End
Sub
Private
Function
outOfBoundsMsg(index
As
Long
)
As
String
outOfBoundsMsg
=
'Index '
&
index
&
', Size: '
&
size
End
Function
Public
Function
remove(o
As
Variant
)
As
Boolean
Dim
index
As
Long
If
o
=
Empty
Then
For
index
=
0
To
size
Step
1
If
elementData(index)
Is
Nothing
Then
fastRemove
(index)
removeVariant
=
True
Exit
Function
End
If
Next
index
Else
For
index
=
0
To
size
Step
1
If
elementData(index)
=
o
Then
fastRemove
(index)
removeVariant
=
True
Exit
Function
End
If
Next
index
End
If
removeVariant
=
False
End
Function
Private
Sub
fastRemove(index
As
Long
)
modCount
=
modCount
+
1
Dim
numMoved
As
Long
numMoved
=
size
-
index
-
1
If
numMoved
>
0
Then
arrayCopy
elementData,
index
+
1
,
elementData,
index,
numMoved
End
If
size
=
size
-
1
elementData(size)
=
Null
End
Sub
Public
Sub
clear()
modCount
=
modCount
+
1
Dim
i
As
Long
For
i
=
0
To
size
Step
1
elementData(i)
=
Null
Next
i
size
=
0
End
Sub
Public
Function
addAll(Arr()
As
Variant
)
As
Boolean
Dim
numNew
As
Long
numNew
=
UBound(Arr)
-
LBound(Arr)
ensureCapacityInternal
(size
+
numNew)
Dim
i
As
Long
Dim
j
As
Long
j
=
size
For
i
=
LBound(Arr)
To
UBound(Arr)
Step
1
elementData(j)
=
Arr(i)
j
=
j
+
1
Next
i
size
=
size
+
numNew
addAll
=
numNew
<>
0
End
Function
Public
Function
addAllAtIndex(index
As
Long
,
Arr()
As
Variant
)
As
Boolean
rangeCheckForAdd
(index)
Dim
numNew
As
Long
numNew
=
UBound(Arr)
-
LBound(Arr)
ensureCapacityInternal
(size
+
numNew)
Dim
numMoved
As
Long
numMoved
=
size
-
index
If
numMoved
>
0
Then
arrayCopy
elementData,
index,
elementData,
index
+
numNew,
numMoved
End
If
Dim
i
As
Long
Dim
j
As
Long
j
=
LBound(Arr)
For
i
=
index
To
index
+
numNew
Step
1
elementData(i)
=
Arr(j)
j
=
j
+
1
Next
i
size
=
size
+
numNew
addAllAtIndex
=
numNew
<>
0
End
Function
Sub
removeRange(fromIndex
As
Long
,
toIndex
As
Long
)
modCount
=
modCount
+
1
Dim
numMoved
As
Long
numMoved
=
size
-
toIndex
arrayCopy
elementData,
toIndex,
elementData,
fromIndex,
numMoved
'clear to let GC do its work
Dim
newSize
As
Long
newSize
=
size
-
(toIndex
-
fromIndex)
Dim
i
As
Long
For
i
=
newSize
To
size
Step
1
elementData(i)
=
Null
Next
i
size
=
newSize
End
Sub
Public
Function
removeAll(c
As
ArrayList)
As
Boolean
If
c
Is
Nothing
Then
err.Raise
31004
,
,
'Collection c Is Nothing'
End
If
batchRemove
c,
False
End
Function
Public
Function
retainAll(c
As
ArrayList)
As
Boolean
If
c
Is
Nothing
Then
err.Raise
31004
,
,
'Collection c Is Nothing'
End
If
batchRemove
c,
True
End
Function
Private
Function
batchRemove(c
As
ArrayList,
complement
As
Boolean
)
As
Boolean
Dim
r
As
Integer
Dim
w
As
Integer
r
=
0
w
=
0
Dim
modified
As
Boolean
modified
=
False
On
Error
GoTo
finally
For
r
=
0
To
size
Step
1
If
(c.contains(elementData(r))
=
complement)
Then
elementData(w)
=
elementData(r)
w
=
w
+
1
End
If
Next
r
batchRemove
=
modified
Exit
Function
finally
:
If
r
<>
size
Then
''arrayCopy elementData, r, elementData, w, size - r
w
=
w
+
size
-
r
End
If
If
w
<>
size
Then
'clear to let GC do its work
Dim
i
As
Long
For
i
=
w
To
size
Step
1
elementData(i)
=
Null
Next
i
modCount
=
modCount
+
size
-
w
size
=
w
modified
=
True
End
If
batchRemove
=
modified
Exit
Function
End
Function
Public
Sub
arrayCopy(
ByRef
src()
As
Variant
,
srcPos
As
Long
,
ByRef
dst()
As
Variant
,
dstPos
As
Long
,
length
As
Long
)
'Check if all offsets and lengths are non negative
If
srcPos
<
0
Or
dstPos
<
0
Or
length
<
0
Then
err.Raise
9
,
,
'negative value supplied'
End
If
'Check if ranges are valid
If
length
+
srcPos
>
UBound(src)
Then
err.Raise
9
,
,
'Not enough elements to copy, src+length: '
&
srcPos
+
length
&
', UBound(src): '
&
UBound(src)
End
If
If
length
+
dstPos
>
UBound(dst)
Then
err.Raise
9
,
,
'Not enough room in destination array. dstPos+length: '
&
dstPos
+
length
&
', UBound(dst): '
&
UBound(dst)
End
If
Dim
i
As
Long
i
=
0
'copy src elements to dst
Do
While
length
>
i
dst(dstPos
+
i)
=
src(srcPos
+
i)
i
=
i
+
1
Loop
End
Sub
Public
Function
subList(fromIndex
As
Long
,
toIndex
As
Long
)
As
ArrayList
subListRangeCheck
fromIndex,
toIndex,
Me
.getSize
subList
=
New
ArrayList
subList.addAll
elementData
End
Function
Private
Sub
subListRangeCheck(fromIndex
As
Long
,
toIndex
As
Long
,
curSize
As
Long
)
If
fromIndex
<
0
Then
err.Raise
6
,
,
'fromIndex = '
&
fromIndex
End
If
If
toIndex
>
curSize
Then
err.Raise
6
,
,
'toIndex = '
&
toIndex
End
If
If
fromIndex
>
toIndex
Then
err.Raise
328
,
,
'fromIndex('
&
fromIndex
&
') > toIndex('
&
toIndex
&
')'
End
If
End
Sub
Public
Property
Get
NewEnum()
As
IUnknown
'interface method
End
Property